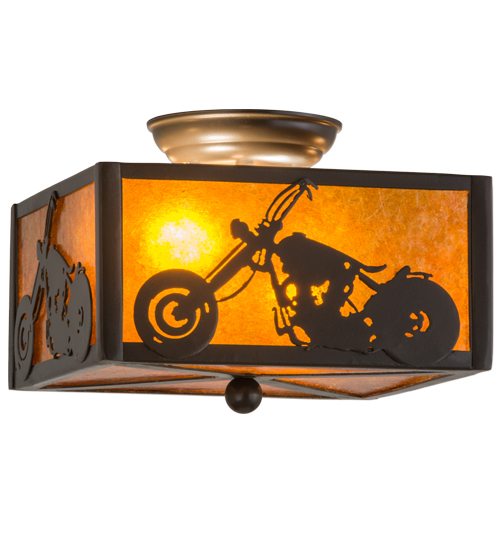 Meyda Lighting Part Number: 23987

Item Name: 10"Sq Motorcycle Flushmount

Description: Four wheels move the body, but two wheels move the soul, is the inspiration behind this Motorcycle design, which is a symbol of freedom, fun, adventure and a desire to roam the open roads. This mood is captured in the warm Amber Mica lighting design of this ceiling fixture, which is complemented with hardware finished in a Timeless Bronze. Custom crafted in the USA in Yorkville, New York. Custom sizes, styles, colors, and dimmable energy efficient lamping options are available.
Price: Call
Specifications:
Total Height: 7.5"
Total Width: 14.5"
Total Square: 10"
Total Weight: 4 lbs.
TOTAL:7.5H. SHADE: 5H x 14.5W BULB: MED BULB: A19 x 2 MAX WATT: 60
Bulb Quantity: 2
Availability: Custom Crafted In Yorkville, New York Please Allow 56 Days