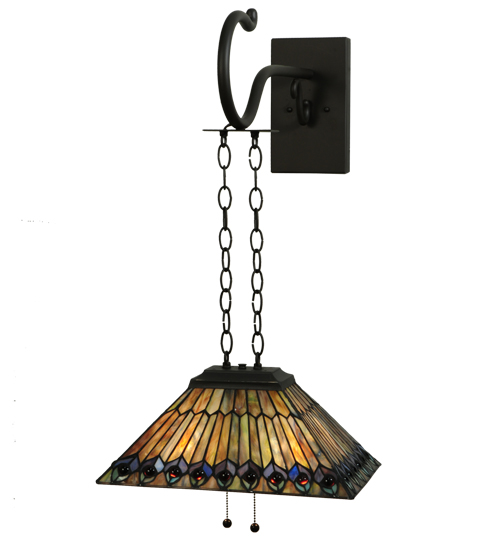 Meyda Lighting Part Number: 138560

Item Name: 16"W Tiffany Jeweled Peacock Shepherd's Hook Wall Sconce

Description: As distinctive as beautiful Peacock fanning feathers in the wild, no two shades will ever be the same as their individuality can be as remarkably unique as their personality. This artistic creation utilizes swirling opalescent art glass background combinations including Beige, Yellow Pinks, Golden Greens, Ivories, Bluish Whites, Turquoise Blues, Olive and Spring Greens. The eye of the plumage design reveals Purples, Pastel Blues, Teals, Cobalt and Ivories, accented with Blue and Purple colored jewels. Individual pieces of glass are hand cut and wrapped using Meyda Tiffany's famous copperfoil construction. Each shade is a unique work of art with color variations based on natural ingredients inherent in the glass. Oil Rubbed Bronze finish.
Price: Call
Specifications:
Total Height: 16-63"
Total Width: 16"
Total Depth: 22.75"
Total Weight: 9 lbs.
TOTAL:16"-63H. SHADE: 6.5H x SQ BULB: MED BULB: A15 x 2 MAX WATT: 60
Bulb Quantity: 2
Availability: Custom Crafted In Yorkville, New York Please Allow 56 Days